8 Onboarding tips and 1 blind spot
November 29th the Kromhouthal was the location of a spectacular 2nd edition of Onboard.Amsterdam. Over 800 HR professionals attended the event and listened to 20 speakers on 3 stages. Tons of karma points go out to @Appical for the great organisation!
So what did we learn from all these onboarding cases and discussions amongst participants? We have analysed the stories of @ASML, @Bynder, @Centric, @Endouble, @HEMA, @HP, @HRoffice, @HRTech, @IBM, @Impraise, @Indeed, @MrWork, @NCOI, @Netflix, @Signify, @Trainmore and come up with 8 tips for onboarding and 1 blind spot. To tease you to keep reading until the end. The blind spot is all about "what you can do for your company?".
8 Onboarding tips and 1 blind spot
Tip 1: Make the business case for onboarding and keep track
The business case for onboarding is getting stronger as scarcity of qualified staff is increasing. What does it cost your company to recruit a new talent? How quickly do they start to add value? And what is the drop out rate in the first month, after 3 months and in the first year? If you collect this information you will find that the cost of not having your onboarding process in order is huge. Companies like ASML, IBM and HP explained that they keep track of these numbers over time.
Besides these direct effects on the productivity of the new hire there are also a lot of indirect effects. ASML also takes into account the effect on the team that relies on the successful start of the new hire to get all the work done. If the new hire drops out, the process starts all over again which is a huge frustration for the team. IBM relates a failed onboarding to missing out on business opportunities.
And then there are the external effects of enthusiastic new hires. According to HR Office they are strong brand ambassadors and make your company stand out on employer branding. And this makes it a lot easier to attract talent in the future.
Tip 2: Start by mapping the employee journey
The most thorough onboarding program designs start with creating an employee journey first. Striking insight from the story of Indeed was that changing jobs is among the most stressful live events (in the same league as moving house or becoming a parent). This means that a good or poor onboarding experience has a huge effect on the wellbeing of your employees.
Although the different companies reported to have gone through elaborate employee journey mapping sessions the onboarding programs that resulted from that were all different. This means that there is not one perfect onboarding design. Different company characteristics lead to different employee journeys and as an effect to different contents of the onboarding program of these companies.
We have derived the following company characteristics that influence the outcome most:
Size of the workforce: In large corporations we see onboarding programs on corporate level, business unit level and on team level. The contents of the programs vary per level.

Global or local player: For instance; global players have to take cultural differences into account. And are faced with distance in space and time.

Target group: Different target groups ask for different approaches. What is the level of education of your workforce? What is the age build up? Are you onboarding people into a permanent job, a flexible position or a seasonal worker? Onboarding mainly millennials in office functions like Bynder is different from onboarding retail staff in a flexible pool for HEMA. Bynder's aims to sculpt the talent of the new hires for their career at Bynder and future jobs as HEMA is focussing on getting people up and running to provide HEMA service in their shops.

Complexity of the business: At ASML it takes a lot longer for new hires to get a grasp of the business than in a chain of restaurants or retail organisation.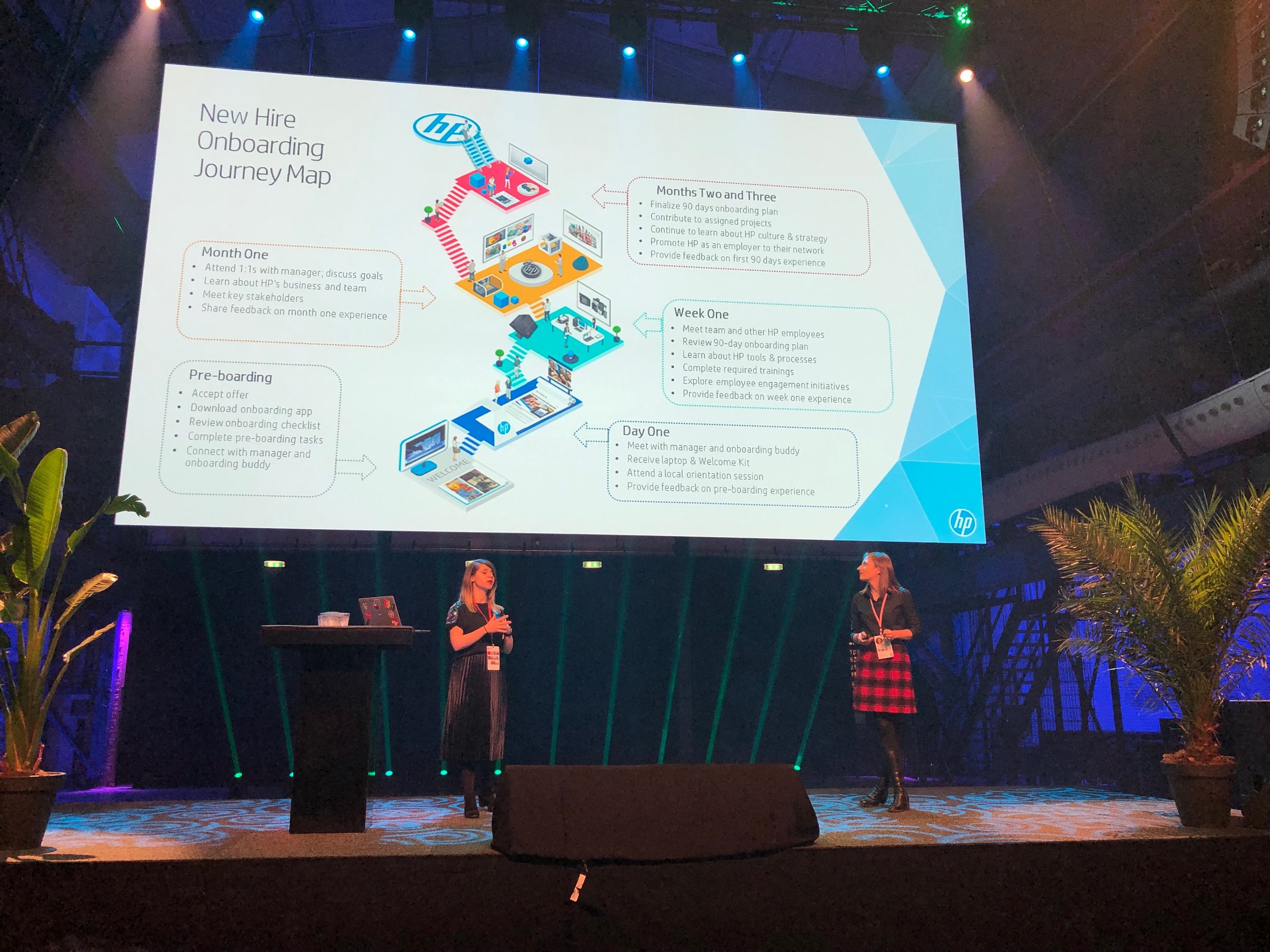 Do not forget to map the journey for other very important roles in the onboarding process:
New hire manager - journey
At HP a new hire manager website was created with all the tools at their finger tips. Including a toolkit with for example an email template to let their team know about their new colleague. In this way hiring manager don't have to think about all of the steps to take and doesn't have to come up with an email text themselves. The toolkit also contained facilitation notes and hand outs how to run a local orientation session with team exercises.
ASML created a managers guide. They now have an online dashboard where they can track the progress all their new employees. New employees are advised certain activities and managers can track there progress.
This is also an important field were app providers like Appical come in. They have an off the shelve solution that can be made to match all the different company requirements. In the Appical environment the new hire manager has his own section with tools to track the proceedings of his new hires.
Team member receiving a new hire - journey
We have not seen this type of maps yet. Although it would be very interesting to see what insights come from plotting the journey of the colleagues of the new hire. What do they need?
In the case of Bynder we heard that employees are actively encouraged to participate in the onboarding program for new hires.
At IBM all new ideas and changes are reviewd by a community of new hire influencers. At IBM the onboarding design has even lead to additional roles like onboarding success partners, onboarding coordinators and buddies for new hires.
Tip 3: Use design thinking and agile principles
At HP design thinking was used to create their onboarding program. They developed parts of their program in low res prototyping. Mock-ups of the tools were tested on new hires and also helped a lot to show progress to stakeholders.
IBM uses an agile approach; fail fast – learn – iterate. They started with their project of changing the onboard experience completely beginning of 2019. The MVP of the program was deployed globally after only 12 weeks in April. The program is scalable and easy to customize.
ASML explained that they have created 9 interventions to help make people feel part of ASML. However they don't think that this is it. It is just a foundation. The program will evolve continuously.
Like ASML, all organisations report that their onboarding teams keep tweaking the process based on the effect that the organisation see on the most important indicators. Besides that they all point out not to focus on metrics only, but also to dig into the open text comments to find critical moments and bottle necks.
Tip 4: Make the onboarding program personal
HP showed in their case that they travelled through the onboarding journey using different personas. By doing this the insight grew that different kinds of people have different needs. In each step of the onboarding journey they asked themselves: how can we make it easier and more intuitive for each persona.
It also makes sense to make the onboarding program reflect cultural differences. IBM and ASML explained that there is 1 onboarding program, but on the local level flavours and spices can be added to make it more to the local likes. ASML explained that as a tech company they feel an urge to use state of the art technologies, but on the other hand found that their new hires also need a high touch approach.
Onboarding is a social experience that can be enhanced by technology, but never taken over completely.
Bynder reported to have an online training center in place where new hires can find specific training videos for their role. ASML also reports to have this in place.
Tip 5: Make good use of the time before day 1
In general new hires are very open to all the information you can provide them about your company. Engagement in activities and on apps is very high for pre- and onboarding. In all cases the designers of onboarding programs report that they see a huge potential for giving the new hires lots of information before day 1.
ASML makes good use of the Appical app for the period between signing the contract and the first day of work. In the Netherlands that period can be up to 3 months but in Asian countries it can be up to 6 months because ASML recruits a lot of employees fresh from university. ASML wants to start connecting and engaging from the moment you sign your contract by sharing information on what to expect on your first day and showing videos. The app was launched globally.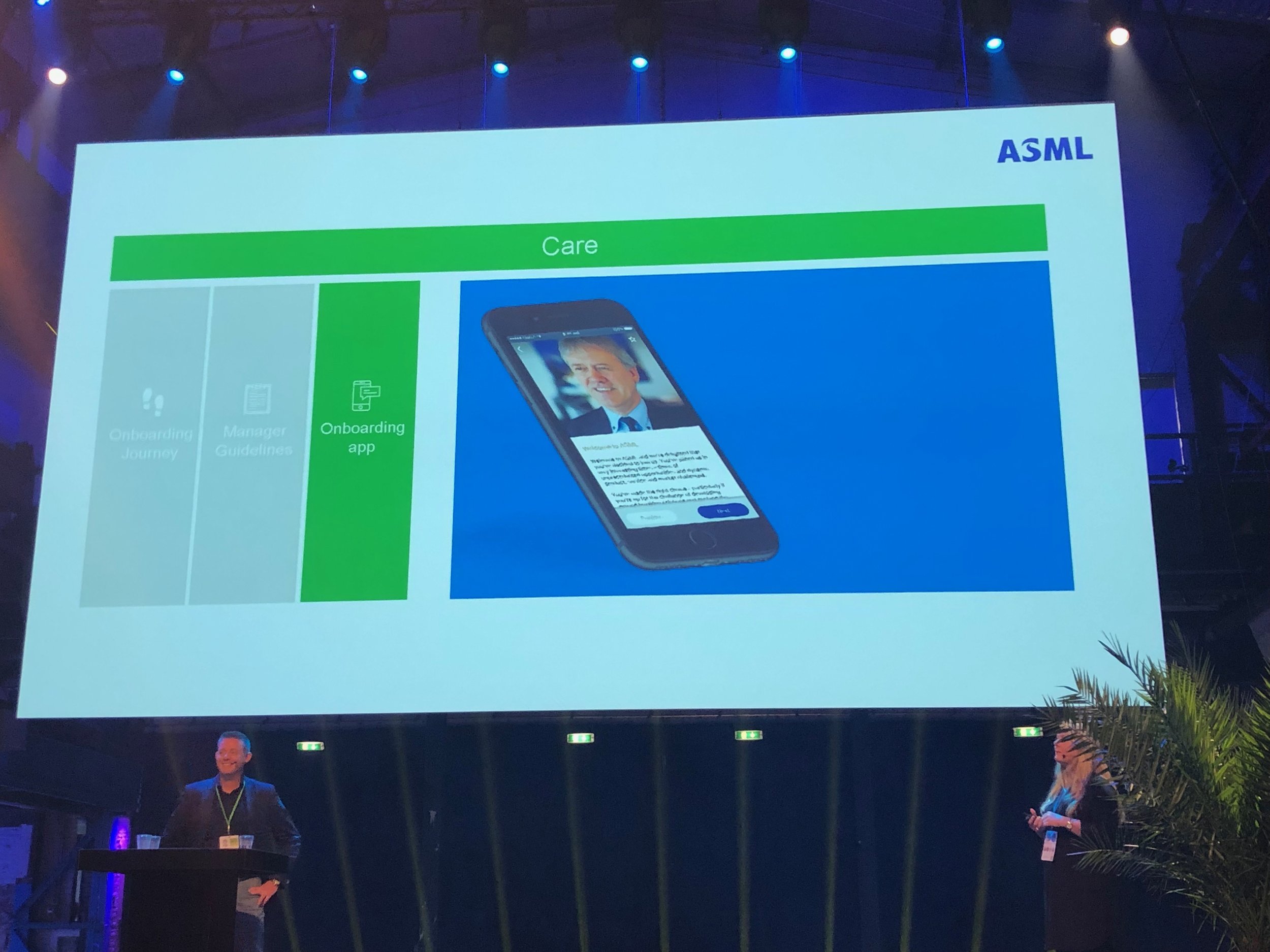 Tip 6: Have all the basics sorted on day 1
Many speakers testified to horrible onboarding experiences. Moderator @AlanWalker was not expected by anybody on his first day in the office. They thought he wasn't coming in until the next month. Another example was about a person being lost on a huge company campus for the start of her first day and because she didn't have a phone number of her manager there was no one she could reach. A third speaker told the crowd that he had to install his new laptop for first use with a 50 page configuration guide which took him the entire first day.
You wouldn't do this to your worst enemy, ha!
If you have made the business case for onboarding you know what the cost are if a new employee leaves your company before he or she ever started to add value.
Of course it takes time and attention to get all the basics sorted for your people from day 1, but it pays to get it right. You might even consider giving somebody this role. Even in a small company.
Tip 7: Be welcoming
One of the things employees told at ASML was that they wanted to feel welcome. The welcoming event used to be filled with 8 hours of more than 700 powerpoint slides. That doesn't make you feel welcome or excited. So they changed it. Your managers now meets you at the reception and you are introduced to your buddy. Different companies report to have a buddy system in place. Mostly the buddy is a direct colleague and sometimes it is a peer.
IBM used to have a 2 day physical onboarding event. The idea was to make this a high touch event. But in reality it was a lot of information overload. In the new onboarding program IBM created a 24/7 online platform, a slack channel to meet your team and a digital assistant named Quinn for questions. It turns out that personal contact is possible through online channels. And then on day 1 IBM hosts a small welcome session for new hires where you play interactive games with the people you need to know.
Bynder gives it's new hires a week long onboarding bootcamp with lots of information and social activities. Nice feature is the welcome e-mail from your manager and the tour around the workplace that ends at your desk where you find a Welcome box filled with Bynder swag, the contents remains a secret!
Tip 8: Connect your new hires with each other and their colleagues
HP analysed over 100 interviews and 500 surveys and discovered that new hires were feeling lonely. They concluded the onboarding needed a human touch and social connection to create a feeling of not being alone in it.
At ASML an introduction event is organised in which you compete in an online game with all new hires from all different countries. This gives you more info about ASML and you get connected to your new colleagues. All new hires at ASML are also invited to join a social program: a sports club, LBTI group or a Robocup team. They meet on monthly bases.
Netflix has a high performance culture, consisting of these elements:
Dream Team, people over process - We're not a family, we're a sports team. Push yourself to be the best and work effectively together to make a winning team.

Independent decision making - Trust people to make the best decisions. Avoid rules, it's not about control but about context.

Share information open - We want to be honest and transparent all the time.

Be candid with each other - We encourage giving bold honest constructive feedback. We keep only our highly effective people.
The people at Netflix make and shape the culture. There is no need to preserve it. It's evolving and improving every day. Connecting the new hires with their new colleagues is a guarantee for keeping the culture alive.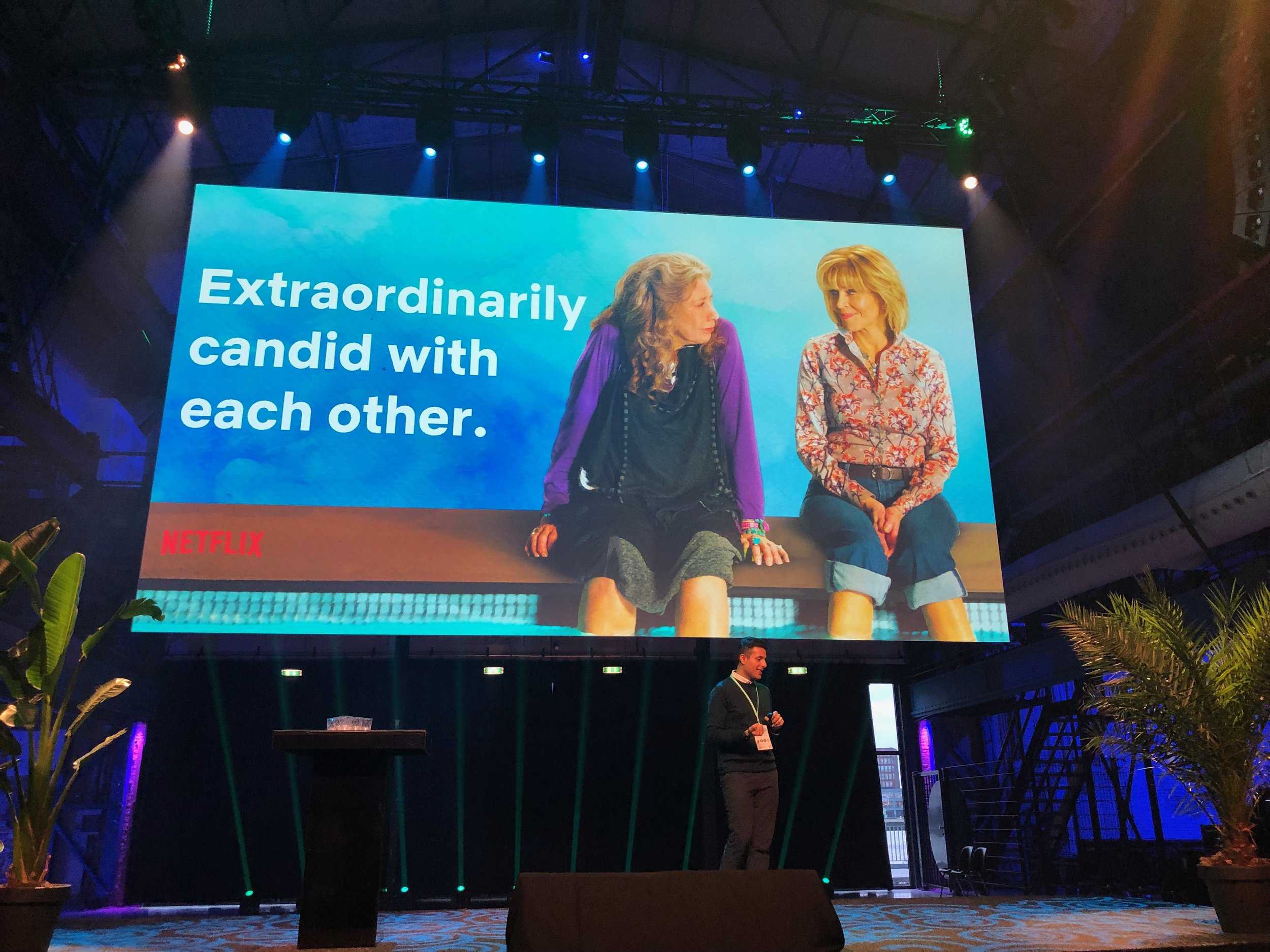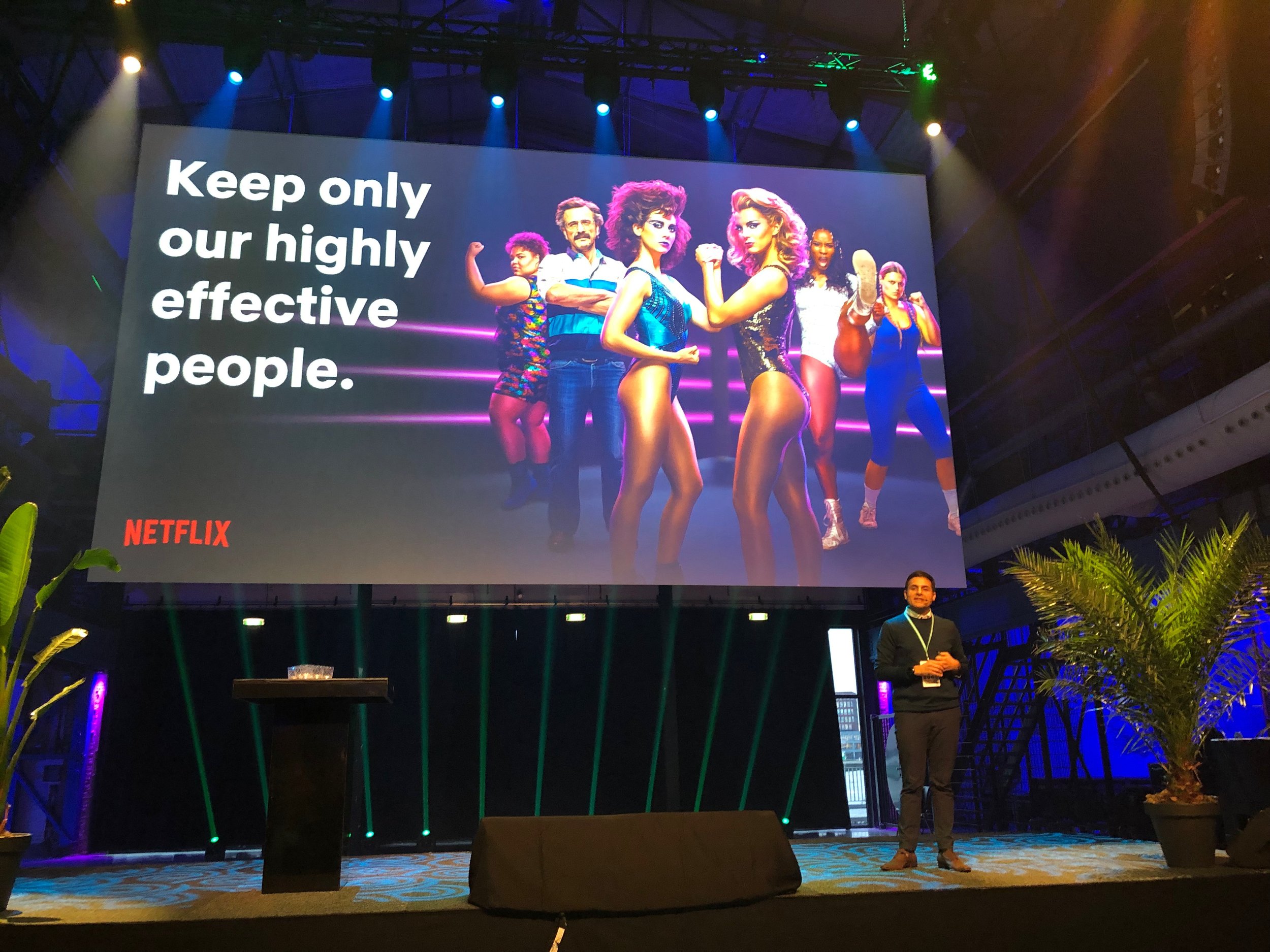 Blind spot – What can you do for the company?!
In the cases of the different companies we noticed that the emphasis is mainly on introducing the company and the people to the new hire. There doesn't seem to be a lot in place for the new hire to show what he or she is bringing to the company.
It might be happening @KPMG, but we are not sure. If your company is active in this area, please reply down below.
Our suggestion would be to have your new hires present themselves to the rest of the company. In the recruitment process a lot of time is invested in selecting the right person. Recruiters try to figure out everything about the person behind the talent and what his or her competences are. The moment the new hires joins the company everyone should know what brilliant new talent walked in.
Who makes me tick?

What is my purpose?

What experience and knowledge do I bring to the table?

What can I learn others?
So we already started to make a prototype of a product that you could add to your onboarding programs. It is a poster with all kinds of background information of the new hire. The information on the poster is gathered during the different stages of the onboarding program. The poster can be shared on yammer or sharepoint and can also be printed out for offline use to create a poster wall of all team members.
What do you think of this idea?
Please leave your thoughts in the comments line below. Thanks!